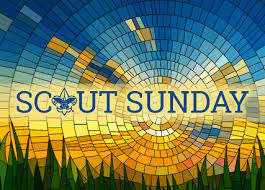 REMINDER and please note the location below! 
Please join us this Sunday, February 6th for our Scout Sunday service! 
Sunday, February 6th
Service at 10:30 – Please meet me inside the church doors at 10:15
All scouts & their families are welcome and encouraged to join us!
Wear your full uniform and a mask.

At Immanuel Chapel (NOT THE SAME BUILDING AS WHERE WE MEET) 
This is just a little further up the road on the Seminary campus – 3737 Seminary Road 
(take the first right, then an immediate right to the large church).
Thank you to our scout volunteers! 
Cross bearer – David Stayanoff
Torch and banner bearers – Gabe Muldoon & Jay Setliff
Flag bearers – Josiah Baldwin & Jack Jahns
Readers – Tige Devlin & Matthew Haymes
Let's remember the 12th point of the Scout Law! 

Hope to see you Sunday!

Mr. Jahns