And now, on to the next big event:  CAMP-O-REE
This one is important, because it is where we get a chance to show off and talk about just how AWESOME we are and attract new Webelos and Scouts to come and join the fun in T-131 (hey, that rhymes!)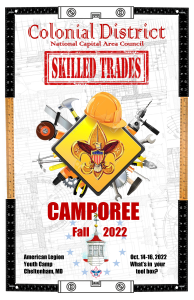 It is 14-16 October at the American Legion Youth Camp in Cheltenham, MD.
SIGN UP:
A reminder to ALL Scouts, in addition to your essential 10, you ALL need to have a Full Class "A", as well as a Class B.  That goes for EVERY Campout, but this one in particular.
If you know any Webelos that will be going, please let Scoutmaster Ramirez know so that he can add them to the list and we can make sure to contact them and give them an invite to dinner!
It is $25 per person, Scout or Adult.
Checks delivered at the Monday Meeting to the Treasurer or Committee Chair- they should be made payable to "BSA Troop 131."  Please put in the notes the activity you are paying for.  Credit Cards at the Monday Meeting (if the treasurer is in attendance) – Processed by the Troop Treasurer.
·        Zelle Account Transfer:
·        Name: TreasurerT131
·        Email: 
treasurert131@gmail.com
·        That is TreasurerT131 just to reiterate the "T131" aspect.
·        Please put in the notes what activity you are paying for.
Zelle is the easiest and most seamless.
Check Payment- check made out to  "BSA Troop 131" , or if you want to use some funds in your Scout Account, please let the Treasurer know: Treasurer@T131.org
Forms- What we need from you
I will need a signed BSA permission slip for each scout (form attached)

T-131 Event Permission Slip.pdf
I will also need a completed BSA medical form for each participant  Scouts and Adults (Goshen ones count as well).

BSA Health Form 2022.pdf
Please let me know if you have any questions.
Brendan Mulvaney
Outings Coordinator
Boy Scout Troop 131