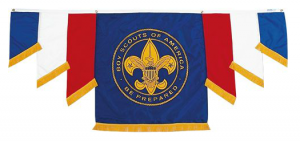 Please join us for our summer Court of Honor & Picnic! 
REMINDER!  7:00 Start time (earlier than last week)
The troop will provide burgers and dogs. 
Please sign up below to contribute drinks, sides or desserts! 
Bring a chair too please so we can spread out! 
Another busy Scouting weekend.  The Roaring Run Camping/Hiking trip was a roaring success.  All the scouts made it up (and more importantly) off the mountain and it was a good experience in the essentials of back packing.  I have not received all the details yet, but the only unfortunate part that I know of, was that Theo was on the losing end of an argument with a hornet.  Nevertheless, it provided a good learning opportunity for trail first aid.
A big thank you to the adults and leaders who went on the trip or provided transportation including Mr. Bolte, Mr. Jahns, Mr. Dalton, Mr. Heatherington and Mr. Devlin.   Also, a big thank you to Mr. Mulvaney for organizing the trip and carpools.  Please post any photos from the trip to Facebook so all can see.
MESSAGE FROM TIM LARSON
The first part of Tim's Eagle project was on Saturday, with 8 volunteers and parents. From what I understand the project was a success, but he needs your help for the second part and with the planting.  Please consider volunteering, especially if you need service hours!
See message below from Tim:
Fellow Scouts, My sincere thanks to those who came out and supported Part 1 of my Eagle Project last Saturday. You all were a tremendous help.
Part 2 – the planting – is coming up THIS Saturday. I would be grateful for your support – for any amount of time. Lunch and snacks and waters will all be available. Please sign up via the Sign Up Genius Link: https://www.signupgenius.com/go/10C0F49A9A722A75-timlarson
 COURT OF HONOR
Please join us for our summer Court of Honor & Picnic! As of right now, the wearer looks dry and do I dare say it … cool?
Time:  7 PM (Note the earlier time for dinner)
First Baptist Church – Back area (where we have been meeting)
Please enjoy dinner with our scouts and their families and see our scouts get recognized for all the great things they have done this year!  This will replace our normal weekly meeting this week.
The troop will provide burgers and dogs. 
A few items to note, please:
·        Bring a chair so we can spread out.
·        Park in the back parking lot and not along to the driveway or on the grass.
·        Bring your mask and practice social distancing.
·        Bring a head lamp or flashlight because it will be dark by the end.
·        Scouts to wear full uniform, including Neckerchief and sash.
It should be a good time for all.
GENERAL TROOP MEETING INFO:
Wear your Mask and uniform!  Bring a headlamp!  Have a good time!