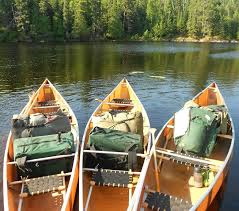 Fishing is indeed allowed but remember, anyone 16 and older will need a fishing license (available on line at GoOutdoorsVirginia.com).
We will be camping at Golden Rock Campground (Owned by Downriver Canoe Co.) in Bentonville, VA both Friday and Saturday nights. We will canoe on Saturday.
From Alexandria, take 66 West (about 35 miles) to exit 13 toward VA-79/VA-55/Linden/Front Royal.  Turn Left onto VA-79 South, and then Right on VA-55W (John Marshall HWY). Drive 5.2 miles to a T intersection and turn left on to Route 340 South (Stonewall Jackson Highway).  Go about 13.5 miles.  Turn right at big number "9751" and proceed under a very high railroad trestle into the campground.  Campground address is:  9751 Route 340 North, Rileyville, Va 22650.  They are quite busy this weekend with a number of groups arriving Thursday and paddling Friday and Saturday.  They do not assign campsites but I will endeavor to secure a nice spot to the left after you pass under the trestle.
We have an awesome turn out- 22 Scouts and 7 adults.  Should be a fantastic time!
Friday – June 11th 5:00-8:00 PM
We will be camping at Golden Rock Campground
Due to COVID restrictions, the Troop is not arranging transportation to the campsite.  There should be someone there by around 6:00 to meet you, but feel free to show up whenever you can.
It is about a 90 minute drive from Alexandria
Sat June 7th Canoe Day
09:00 Downriver Canoe company will provide transportation from the campsite to the launch point. — EVERYONE Needs a mask for the shuttle ride
We will be covering 13 miles over 5 Hours of canoeing!  Get your arms ready. We go from Ft. Stover to Compton Rapids.  It should be beautiful scenery.
Plan on eating mid day meals on the river as you float along although you may stop in the National Forest
We will get back to the campground in the afternoon, with plenty of time to recuperate in time for the Camp Fire.
Sun June 8th Return (on your own)
We ask that parents not staying overnight with us, arrange to have their Scout picked up by 09:00 on Sunday
The Canoe Company's whole staff is now fully vaccinated!  And, they do not mix groups, so we will be the only ones on the bus and in our float group.  And of course, they require masks on the bus.
Please let me know if you have any questions.