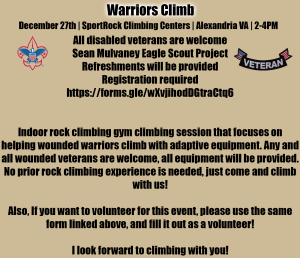 Fellow Scouts,
I have created a program for wounded veterans (both visible and invisible wounds) to explore indoor rock climbing at a local gym.  Climbing helps to build flexibility and muscle groups that are often neglected, and climbing is also a close knit community, something veterans can greatly benefit from.
This event is totally free for the veterans, and all veterans and wounded warriors are welcome.  We have programs for able bodied veterans who just want to climb, we will provide them a climbing partner, and for those with physical challenges, we will have coaches, and even have adaptive equipment for those with more serious physical limitations, to make sure anyone who is interested can participate.  I picked the week after Christmas because I was hoping veterans and their families would have the most time off or flexibility to join us Tuesday 27 December.
All I ask is for people to fill out a simple registration form so that we have enough food and drinks, and equipment, for everyone.  The form can be found at:
Both links take you to the same form, the first is just easier to remember.  Registration will close on Friday, December 23rd to make sure we have enough equipment and food for everyone.
I have also attached the flier that you can post to social media, email out, or otherwise distribute.
Event: Warriors Climb
Location: SportRock Climbing Center, 5308 Eisenhower Ave., Alexandria, VA
Date: Tuesday 27 December 2022
Time: 2:00-4:00 PM, Eastern Time
Cost: Free to all veterans, all equipment, food, drinks are being donated by SportRock, Catalyst Sports, Safeway, and other generous donors.
Thank you so much for helping me complete this important project for our Vets, and helping me earn my Eagle Scout rank.