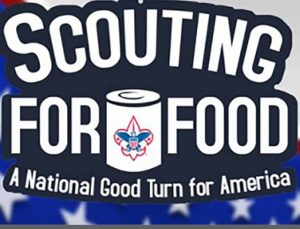 REMINDER – Please help this Saturday Morning if you can for any amount of time! 
Details below but in particular – we need volunteers at the church from noon to 2 who can collect food and deliver it to ALIVE. Please let me know if you can fill that slot in particular. 
We will collect the donated food in our area this Saturday and we again need both scout and parent volunteers to help.  So, if you're not on the orienteering trip, this is your chance to shine:
– We will meet at First Baptist Church at 8:30 on Saturday, 13 November.
– We will match scouts to drivers and return to the areas we posted notes to last week.
– Once complete each car will deliver the food to the ALIVE! Collection point at the Bus Barn at 116 S. Quaker Lane.
I will provide maps and instructions Saturday morning.
This year it is also possible to invite family, friends and neighbors to drop food donations off at First Baptist – see attached flyer – share that information widely and consider making a donation yourselves to feed our community.
Thanks again for all your help – this is where Troop 131 can really show its commitment to serving our community.
Russ